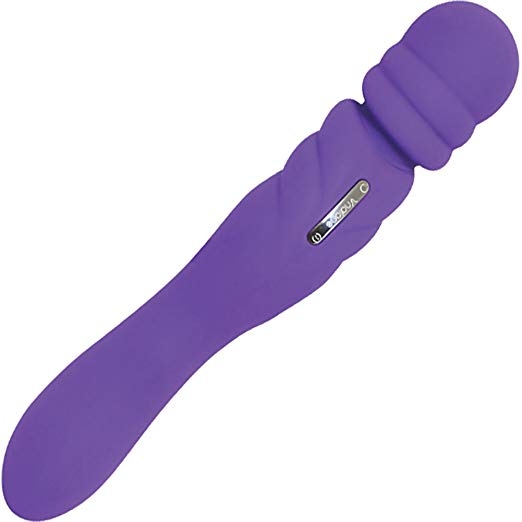 Nalone Jane
Looking for a wonderful toy with multiple capacities for pleasure? With the Nalone Jane you get two toys in one! One end is a traditional vibrating wand design to provide external stimulation while the other end is able to be inserted for additional internal pleasure.
The Nalone Jane can have an exterior application for wonderful clitoral/vulvar massaging, or semi-penetrating to the G Spot area, or deeply penetrating to the A Spot area. Any desired combination is possible in you self-care practice with this wonderful intimate toy!
The "A spot" is the recently identified Anterior Fornix erogenous zone, located at the deepest point within the vagina, above the cervix, on the anterior wall of the vagina. Applyiing pressure to this area, both from inside the vagina, and possible externally from the abdomen, is said to increase the release of lubrication through the Skene's glands. It is thought that many women find applying pressure to the "A Spot" Anterior Fornix increases their ability to orgasm quickly, especially when the clitoris is simultaneously stimulated.
The Jane is made of delightfully soft silicone that delivers engaging vibrations.
Rechargeable

Seven vibration motors

USB rechargeable

Product Dimensions: 4.1 x 11 x 2.4 inches ; 9.1 ounces

Shipping Weight: 13.4 ounces
If lubricant use is desired with your Nalone Jane, please use just a small amount of water-based lubricant only. Lubricants containing silicone or oil ingredients are not compatible with silicone toys and can cause damage to your toy. We recommend Sliquid H2O, Sliquid Sea, and Sliquid Sassy. They are all water based and each have unique properties to fit your specific lubricant needs.
Cleaning: To clean your Nalone Jane, use a toy cleaning product or a mild, non perfumed soap and water. A washcloth dipped in soapy water can be used for a gentle wipe down. Make sure all the soap had been removed and your toy is dry before storing separately from other toys (preferable in a fabric pouch…included).